Norma Fuentes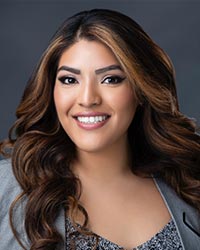 Norma Fuentes joined Stricklin and Associates in January 2020 as an Associate.
Ms. Fuentes received her B.A in Criminal Justice and Psychology from Loyola University Chicago in 2018.
Ms. Fuentes began her career as a Program Coordinator at the American College of surgeons, then went on to become a paralegal at Katz Friedman. Her previous work and life experience as the daughter of immigrants have instilled a passion for advocacy and law.
As an associate, Ms. Fuentes organizes and conducts meetings and other advocacy opportunities with government officials on behalf of a wide array of clients. She is also politically engaged and worked on behalf of several successful candidates in the March 2020 primary.
Ms. Fuentes is trilingual; she speaks English, Spanish, and French.
Ms. Fuentes is passionate about mental health, criminal justice, and education. Her strong analytical and diverse perspective allows her to effectively interact with an increasingly younger and more diverse state government. She is an aspiring attorney and hopes to ultimately practice law in Illinois.